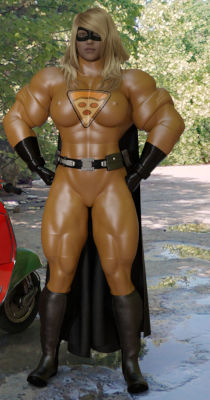 Pizzagirl part three - audio story

Today I was attacked again - the guy wanted the money I was carrying. He was waving a knife around, but it was a dinner knife and he looked really stupid with it. "OK, OK," I said, "My life isn't worth the cash I'm carrying, it's on the bicycle, I'll just get it." But also on the bicycle was my hockey stick, and that's a yard long. I unclipped it, and swung at his head, as one does. He ducked, of course, but I caught him a good one on the shoulder. He yelled "Bitch" and came at me with the knife, but I got him on the left ear with the second swipe of my stick, and he staggered.

Why a hockey stick, you might be wondering. Because a baseball bat looks like a weapon, but a hockey stick looks like sports equipment. Which it is, and I've had plenty of practice with it.

So he was still coming at me with his cutlery, so after I'd bounced my hockey stick off his left ear, I did a follow through, spun round and smashed my weapon into his right ear. Now he was dazed, but he still had his knife, so I lined up carefully and whacked his right hand, cracking his knuckles and causing him to drop the blade.

Now he was disarmed, I suppose I could have just got on the pizza bike and rode off, but my blood was up and I wasn't going to stop now.

The standard strike with a hockey stick is, of course, to the shins, followed by an "Oops, sorry about that!". So I took careful aim, raised the stick and brought it down as hard as I could. There was a satisfying "Crack!" and I knew that my assailant was finished. So I put my hockey stick back on its bracket, got on the pizza bike and rode off into the sunset. Or I would have, but it was night time so I rode off into the moonlight.

Story by Diana the Valkyrie.
Wondmills 2 - text only

Following that first day, when Steph showed me her new, gym toned body, and demonstrated her superior physical power, things began to change in our marriage. It wasn't just the dynamic of our sex lives either, the whole nature of our relationship changed. I don't think it was the fact she could (and did) now take full control in bed - it was the fact I loved it. This was something quite different and fed into the dynamics of life together outside the bedroom.

It wasn't like I used to be undisputed head of the household and all that had suddenly changed. Steph had always made more money than me and we had always made out decision together. The important stuff, like about the kids or where to live. But I had always kind of had the final say. I guess it was just the natural pattern of things, one that we'd always followed without thinking or discussing things. But once she started regularly kicking my ass on the wrestling mats, usually before carrying me to bed and dominating me, other aspects of our lives started changing too.

I mean, I had always harboured secret domination fantasies, I watched videos online and things but I never thought it would be a reality of my life. But now Steph had taken full control of our love life, quite literally, I really began to lean into it and open myself up to those parts of me I'd never allowed before. Steph for her pert helped with her renewed sexual appetite. The reality was we had never had this much sex. Not even when we were young. We were discovering a whole new life that neither of us had even realised we wanted. And it was exciting. For both of us. She thought up new ways to user her body and mine and we both delighted in playing together and indulging this new part of ourselves.

It wasn't just the wrestling either. I had started to worship her. Both literally and figuratively. After one energetic bout of wrestling, Steph stood over me, then, with a curious look on her face, she put her foot on my face. I'd never had a thing for feet but within seconds, I was kissing and licking her foot and sucking on her toes, flat on my back, naked with my hard-on sticking straight up in the air. She looked down with me with a pleased look in her eyes, before she pulled her panties to the side and sat right on my face. She rocked herself to orgasm while I worked hungrily at her lips. When she came, she stood up, looked down at me and said,

"What do you say?"

I gazed up and her and responded,

"Thank you... Mistress"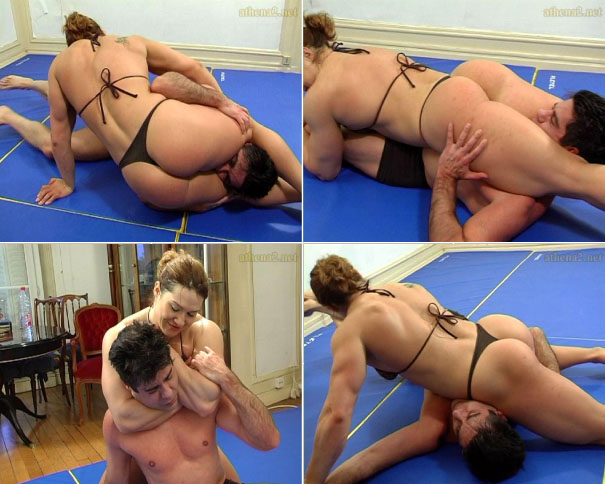 Tipsy with Cognac 2 - Alina is reading a book, when her boyfriend enters the room, totally tipsy. She doesn't appreciate it so much... With Alina, an attractive 80kg bodybuilder, and Wedge, a small 60kg guy. Alina becomes sexier and sexier each time we see her, with her perfect physique, she's now the perfect girl! (In this video, she's in great shape, just after the contest, as you've never seen her in our videos). Courtesy Athena 2.